> Home
> About This Site
Summary | Area Map | Distance and Difficulty
Cut-Off Times | Race Description

[ Photo Gallery ]

The previous two years, I had been eyeing the Squaw Peak 50, having completed a number of other races, but as yet, having never completed an ultramarathon of 50 miles or longer. This report chronicles my adventure from weeks before and throughout the event in 2010.

Race 2016: I ran the first 26 miles just a few minutes behind my 2014 pace, and at that point, my wife joined me as we did the last half together finishing in 15:20.

Race 2014: I had a good run and completed the event in 13:36.

Race 2013: I was able to run more of the course this year than in the past. Good weather helped a lot, and I was able to follow some runners during the early miles as my unofficial pacers. By mile 33 at Little Valley, I was about one hour ahead of my best time, and as usual, the miles until Windy Pass were slow. However, I was able to run the last four miles and come in at 13:53.

Race 2012: Finished in 15:04. Weather was good, but a little hot.

The official Web site for the race (Squaw Peak 50 Mile Trail Run) describes the event in detail and directions on how to get to the area. (The starting point is shown below.)

The very challenging 50-mile race consists of trail, dirt road, and a limited amount of paved road, with a number of major climbs. There are 10 aid stations with a total elevation gain of over 10,000 feet. I wouldn't recommend this as a person's first ultramarathon, although some people attempt it.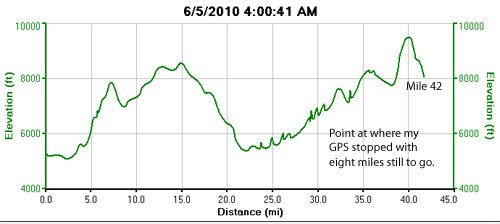 Some of the appealing features of the race that seemed to beckon me were that it was challenging, but also, that it had no final cut off for those who reached mile 33 withing 9 ½ hours of the official starting time. Furthermore, the race is held almost in my backyard in Utah County area, so it would be easy to get to and train for during the year.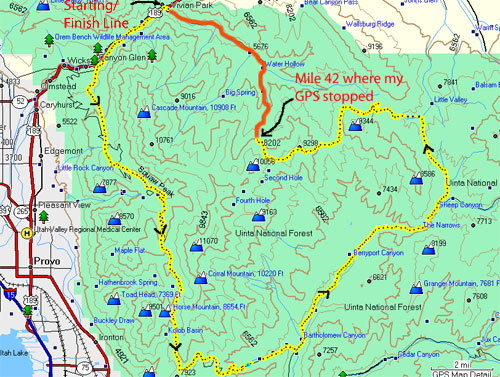 Course Map for the 50 Mile Race
I realized early on that this was not going to be the the usual race that you attempt with little running experience, so I had participated in a number of road/trail marathons and ultramarathons over the last couple of years to get somewhat used to the rigors of long-distance endurance events. However, I very much consider myself a relative novice. Ultrarunning is more than just a physical challenge of running and/or hiking long distances; the mental toughness of trying to convince yourself not to throw in the towel at the next aid station can be difficult.
Starting at Vivian Park up Provo Canyon, the Squaw Peak 50 Mile Trail Run follows a rugged loop route of single-track trail and dirt road, with a couple of short sections on a paved road. The race has several long climbs for a total elevation gain of about 13,000 feet. A full description of the course can be found HERE.
To have a mental edge over my own doubts of completing the race, I decided to do some training on the course under different conditions. I ran several sections of the course during the day, in the rain, and at night starting about six weeks before race day. I also assisted the race director in clearing part of the course. Because I was going to do the early start at 4:00 a.m., I really wanted to know the route beforehand so I wouldn't be disoriented in the dark. It helped.
In the days before the race, I was feeling a little anxious. I had tapered off my training and I felt rested up the final week. We went to the pre-race for information on the current conditions of the course and then tried to go to bed early.
On race day, I got up about 2:30 a.m., having prepared my drop bags for several aid stations the evening before. The weather forecast was indicating a warm day (as it turned out, a high of 78 degrees and a low of 57 degrees---better than a snowstorm (as in the 2008 race), or extreme heat that could quickly zap your strength. I planned on putting nutritional items at aid stations 3-5, and 8. I had no plans of switching clothing unless I needed something at aid station 6 where I would meet my wife. (In the end, the aid stations were so well stocked with food and drink that I didn't need anything from most of my drop bags which simply consisted of basic items in zip-lock bags.)
The starting line with the race director giving final instructions
My wife and I arrived at about 3:40 a.m. and waited around a few minutes before the start of the race. For many runners, this was old hat, but this would be my first attempt at this distance, and I simply wanted to finish without injury. For the elite runners, they would finish many hours before I would cross the finish line, but I was looking forward to getting some great pictures and footage of the scenery. Although perhaps somewhat unusual, I always carry a small tripod to take some pictures and pass-by video of myself for my race reports.
After the race director made some final comments, he did a simple countdown and the runners were off in the dark with their headlamps. I paused for a few moments to get some pictures and video of the start, and then I joined the runners. After about a minute or so, I decided to get into my easy running pace (about an average 8:20 minute mile), and I noticed that I was pulling away from the main group. I didn't see anyone in front of me, so it was hard to judge whether or not a group had already sprinted out at the start. All I could see was that I was ahead of the main pack going into the darkness. You have to keep in mind that you could easily burn out, seeing that 50 miles is a long way to go. At the 2.2 mile point, the race leaves the paved trail and heads up the Bonneville Shoreline single-track path. There was a volunteer to make sure you knew the turn. At that point, I was all alone as I ran the next two miles up the trail. I hadn't brought any extra batteries for my headlamp, thinking that the ones that were in mine were somewhat fresh, but my headlamp starting blinking (a warning of impending blackout) halfway up, but there wasn't anything I could do at this point but to keep going forward. I was just hoping I didn't run into a disgruntled moose along the way.
At that point, I could tell there was someone about 100 meters behind me, but I still had no idea if there was anyone ahead of me. At the 4 mile mark, you start to make a climb for the next 1.5 miles until Hope Campground. I called me wife a couple of times because she was planning on meeting me at the first aid station there. At about mile 4.75, I ran into a couple that had stopped briefly, and I passed them as I continued the climb. (I was getting warm as well, so I took off my long-sleeve shirt and ran without one for the next several miles.) When I arrived at Hope Campground a little after 5:00 a.m., my wife was waiting at the aid station with a blinking red light so I could tell who she was. A grabbed some water and was off (no time to enjoy the breakfast from the local scout troop that was there to provide support).
My wife said that there were about three runners ahead of me, but again, I hadn't seen them before that time. I traded my headlamp for a small hand-held light and continued into the darkness; fortunately, the dawn was breaking, and I only need the light for an additional 15 minutes or so. The next several miles about mile eight were uneventful . . . just climbing and hitting a downhill section alone. Nice views though. At mile eight, the trail joins the dirt road as you drop and then pass by Rock Canyon Campground, and then it climbs again. I didn't see anyone along this stretch until a caught a glimpse of three runners up ahead, and I caught up to them at the second aid station at about mile 10.5. I was in and out within a minute . . . just in time to fill my bottle and grab a couple of snacks. My strategy was to run with a bottle and some Ensure for the first 15 miles.
Finally, around mile 11, the lead runner (who I believe was the eventual winner, Kevin Shilling), passed me on the road. As I continued along, I soon noticed another runner that seemingly appeared from nowhere about 100 meters in front of me. At first, this puzzled me because I didn't think I had been dazing at the ground so much, but as I continued, I then noticed the race flags to my right coming up a trail leading to the road I was on . . . as it turns out, I had missed this turn and had proceeded to add 1/4 or so to the race by sticking to the road. Oh well.
Aid Station #4 overlooking
Springville and Mapleton
From that point until mile 15 at aid station #3, the frontrunners passed me by and that would continue throughout the day. That was fine because I at least got to see some of them make great time and progress in the race. During parts of this section, the dirt road was covered with many feet of snow, and you had to make your way along the muddy and wet edge of the road, slowing you down a little bit. I reached aid station #4 at about 8:00 a.m., stayed for a couple of minutes, and then made the run down the mountain with some great views of Utah Lake and the south end of Utah Valley. At about mile 18, the course turns east at Camel Pass, with some great scenic views into Hobble Creek Canyon. The next few miles were a great downhill run along a dirt road with the race route occasionally leaving the road on some dirt single track. (I almost missed this turnoff.) About mile 19, the first women caught up and passed me, but again, it was nice to see people doing so well at this point.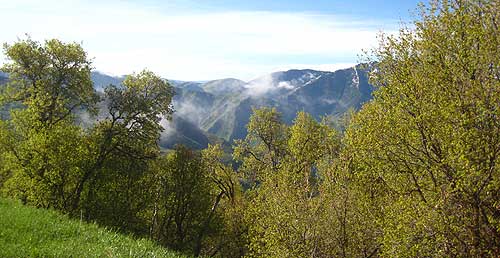 Looking into Hobble Creek Canyon from Camel Pass
I pulled into aid station #5 at about 9:20 a.m. and enjoyed the fixings of the aid station. I was very pleased to see that all of the aid stations were very well stocked with fruit and snacks of all kinds, and it turned out for me that I would really need nothing in terms of nutrition from anything that I had prepared beforehand. Boy, cold fruit always hits the spot with me. I left quickly again, trying to arrive at the paved road by 9:30 a.m. where my wife might be able to see me. We were told not to park or drive anywhere along the dirt road, so she ended up pulling off along the paved road in a safe spot. The next four miles take you along a paved road until aid station #6. The day was really warming up; I was feeling good, but I knew much of the course until at least mile 33 at the aid station #7 would be a fast walkathon. The race director passed runners along this road section and offered a cold ice cream. You don't often get roadside service like this.
I met my wife at aid station #6 at about mile 26 at 10:40 a.m. or so, and she joined me for the next four miles to aid station #7. We talked about this and that, mainly to keep my mind off the number of miles remaining in the run. Your mind sometimes has the uncanny ability to convince you that you really can't go THAT far. Anyway, we enjoyed our time together.
Once at aid station #7 at around noon, I spent a moment eating some fruit and other small items, and then bid farewell to my wife who would travel back to aid station #6 to pick up her car to meet me later in the day at aid station #10. I was still feeling fine--no need to change shoes or socks for the entire race. The entire section until aid station #8 was very scenic and serene. I was simply enjoying myself, hoping to reach the next aid station around 1:00 p.m. At this point, most people were walking at a good pace. After pulling into aid station #8 for a couple of minutes to fill my bottles and grab a few snacks, I was back on the trail for the last couple of climbs. The first couple of miles climb slowing and then you make your way around the mountain until about mile 39. Along this section, I encountered runners in different stages of exhaustion; some sitting on a log resting for a few minutes, others puking and trying to regain their energy. One runner was lying on the ground with feet propped up on a log long enough to pause for a few minutes before moving on.
Climbing the "hill"
As anticipated, climbing the "hill" at about mile 39 was a challenge: over 1,000 feet climb in less than a mile. It is a tough grind, especially as you traverse a section of snow for some distance. Again, a number of runners struggled during this section. People were stopping, sitting, and resting in the snow. At times, I would take ten steps and then rest briefly before taking ten more. It really looked like a death march at times without someone carrying a whip to keep us moving. Recognizing my own hydration needs, I generally carry two bottles, and this was sufficient for me during this stretch. I put some snow in with some water with one of my bottles, and that help provide a cool drink on a warm 78 degree day.
After the major climb, the race continued upward while gaining some elevation until you reach the very top of the course at over 9,000 feet. During this whole time, I feeling pretty good because I haven't driven myself into the ground because I know what I can and cannot do. I applaud all of those who can summon the strength to go faster and farther; for me, it's just about getting home.
View from near Windy Pass
I worked my way down the top and rolled into aid station #9 at 5:00 p.m. What is always so amazing is to realize that the volunteers up there have hauled in tons of supplies to the runners for about six miles one way, and they treated you you like were in first place, always read to fill a bottle or provide a snack. I really was just expecting a cookie or two to be at the aid station, but there were plenty of goodies and fruit to be had. Kudos to all of the volunteers. Like with the other aid stations, I was in and out in a minute or so after enjoying some delicious fruit. At this point, it was my goal to make it under 16 hours, a reasonable goal for me. The first half mile or so down Windy Pass was slippery and wet with plenty of snow. Eventually, the snow and mud relented to the drier trail below, and I was able to enjoy the descent. Besides being tired, legs felt good; I just looked forward to seeing the family at the final aid station about mile 46.6.
However, from time to time, I would come across runners who where trying to recover momentarily. Covering 50 miles can exact its toll on anyone, so encountering runners puking by the trailside wasn't uncommon.
The descent to the last aid station #10 went quickly, and I found my family waiting for me. What a nice sight. The volunteers were handing out cold, wet towels that felt so soothing, and I ended up carrying this to the finish line. I spent but a minute here, grab a bite, and headed down the road, my son joining me for a quarter of a mile or so. It was a slow grind from there until the end, but my son met me again within the last quarter mile, and from one point, we ran to the finish line together. Although I was tired, I completed the race without injury.
It was certainly a long day, but very pleasant day indeed.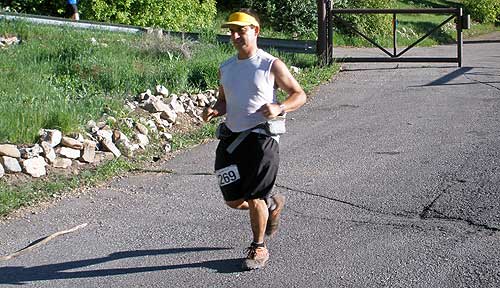 Running through aid station 10 at mile 46
Lessons Learned from Race -
I learned a number of things regarding preparation and running in this event:
Surveying as much of the course as beforehand can give you a mental edge as to what lies around the bend.
Pacing yourself is critical. You can easily burn out in the first 10 miles with nothing left in the tank for the next forty.
Figuring out your nutritional needs and being aware of the items available at the aid stations.
Wearing proper shoes appropriate for the weather will limit injuries and potential blisters (which I never got during the race).
Carrying a phone helped me stay in touch with family on parts of the course including the section between miles 35 and 40. (Individual results will depend on your phone and carrier.)
[ Photo Gallery ]