Summary | Area Map | Distance and Difficulty
Cut-Off Times | Race Description

This is a VERY difficult mountain trail course designed to chew you up and spit you out somewhere in the Wasatch Mountains to the east of Provo and Springville, Utah. With several major climbs of about 13,000 feet during the first 30 miles (and a total gain of about 17,000 overall), your legs could give out long before you reach the halfway point.

Race 2013: I finished. Some people compete; I simply try to complete, and this year was no different. Some cloud cover and slightly cooler temperatures than predicted made the experience more pleasant . . . if you can call going 100 km "fun." I established a managable pace for myself early, but I sprang my ankle during the early part of the race, and then aggravated the same one with another twist 10 minutes later. After some walking, I was able to somewhat run again, but the weight on the ankle made running painful. I still wanted to complete the event, so I simply hiked my way to the end. No matter what, there is still satisfaction in doing better than before in spite of some pain and discomfort.

The official Web site for the race (Kat'cina Mosa 100K Mountain Challenge Run) describes the event in detail and directions on how to get to the area. (The general vicinity of the starting area is shown below.)

A basic mile calculation simply doesn't do justice to the difficulty of this race, but a comparison of the Squaw Peak 50 and the Katcina Mosa 100k (organized by the same people) in terms of the number of people signing up for each race can provide some perspective.

The Squaw Peak 50 mile often fills in three days with over 250 runners; the Katcina Mosa 100k can't seem to entice more than 40 on a regular basis to participate. The distance alone isn't the sole factor; rather, the sheer difficulty with the relentless climbs, especially in the first 30 miles, can turn your legs into jello. The last 32 miles just wear you out.

The official start time is 3:00 a.m., the race allows for early starters who anticipate taking a significant longer to start at 1:00 a.m. There are regular cut-off times throughout the race.

Pre-Race Preparation

I did part of the course the two previous years, but I was hoping to complete the entire race this year. Having done a trail marathon two weeks before the Katchina Mosa, I realized that my legs were feeling somewhat tired, but I wasn't injured in any way, so I knew the race would simply go a little slower than normal.

Let me also clarify that if you are looking for fast-paced account from a elite runner at the head of the pack, this ain't it. This story is to recount what life is like at the very BACK of the pack, slogging hours on end while the elite and even the middle-of-the-pack runners are home resting comfortably after a good race. Personally, I think there is plenty of room for each in the race narrative. However, mine might give some people the courage to try hard things even when you come in last.

Throughout this report, I've indicated aid stations below with approximate distances to give reference to different points in the race.

Miles 0 - 8.49 (Start to Camel Pass)

My wife drove me to what had been the starting line where the right and left forks of the road split. We arrived just a few minutes before the early, 1:00 a.m. starting time, but I noticed that something was amiss because the pavilion that had been used in the past to leave your drop bags seemed to be occupied by other campers. We then walked to the starting line with my bags at about 12:57 a.m., and the road was completely empty. No one. Quiet. I started to wonder if they had changed the starting time or place. I just didn't know what to do. (As it turned out, I didn't read carefully the information that was posted on the organizer's Web site, making the false assumption that the meeting place was the same as in the past. My mistake.)

My wife decided to go back to the car and perhaps drive up the road to see if you could see anyone. Not wanting to wait around, I took off up the road with the hope that she could figure out where the other runners were starting from. (Oh, about 10 minutes earlier, I realized that I had left my GPS watch at home, so I was without that, so my cell phone ended up being my time counter which worked just fine.) After going for about five minutes, she called and said that she spotted a few early starters, and as it turned out, they had met at a different pavilion up the road. My wife was able to talk to the race director about my situation and left my drop bags with him.

Okay, with the panic gone and knowing other runners were just behind me, I pushed on. Climbing the first 10 miles or so has always been slow for me; I also wondered after going a couple of miles if I am really going to complete the thing. (An early mental question.) However, as always, I realize that your doubts and energy levels always fluctuate during a long race. One minute you can feel dead to the world, and a few minutes later, you've regained your mojo.

What was nice about the night was the almost full moon that lit up the course. The depth of night can leave you a little depressed, but with the light, I was able to walk and run sections of it without a headlamp.

When I arrived at Camel Pass and aid station #1 at 3:16 a.m., it was quiet and dark. The aid station volunteers had items out, but they were still sleeping, perhaps not anticipating runners at that point or simply making the aid station buffet self-serve for the early starters. I grabbed a few items, and then continued the climb for over for over a mile until the top of the road at Kolob Basin Overlook.

Miles 8.50 - 13 (Camel Pass to Slate Canyon)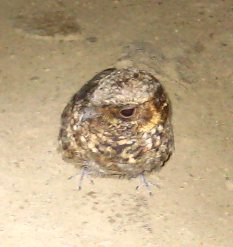 Took this picture of Northern Pygmy Owl often seen on this section of the course.
The next session is mostly downhill until the second aid station. I could see some runners behind me, but I wasn't concerned about that. I'd rather not be last in a race, but finishing As in years past, I am always fascinated by seeing Northern Pygmy Owls on the road. Perhaps, other runners have seen these small birds with bright yellow-glowing eyes resting on the road, but might not know what they are. Very interesting dirunal creatures. You sometimes can get within a few feet of them, and then they take off and land just up to road from you.
I kept stopping to take pictures and video, and I arrived at the second aid station about 4:20 a.m or so. I think some early starters were wondering where I came from, not knowing of my story from the beginning of the morning.
Miles 13 - 16.5 (Slate Canyon to Rock Canyon)
After a brief stop, I continued on down the winding dirt and gravel road uneventfully until the third aid station at about 5:15 a.m. In years past, I arrived hear about 20 minutes earlier, but I wasn't so much concerned about the time as about how my body was feeling. This year, I decided to bring an MP3 play and listen to music to pass the time, and it helped. I generally only wear one earplug so I can hear other things around me. I don't want to be attacked by a moose that I accidently surprise along the trail or arouse a waiting rattlesnake.
Miles 16.5 - 23.5 (Rock Canyon to Big Springs)
After grabbing some fruit, I started the march of Dry Creek Canyon Trail #60 which will take you to the top of Lightning Ridge, with possible ascents to Freedom Peak (officially named in July 2005), Shingle Mill Peak (named after a former lumber mill), and Cascade Mountain. This trail slowly climbs for about three miles until you reach the ridge where you drop down on the Big Springs Hollow Trail #59. As I made the climb, I was passed by a few runners, including some in the lead group. As in years passed, this was a slow grind, but what I enjoy about it most is the rising sun that comes up as I reach the upper ridge around 6:30 or so.
This whole section is very scenic, from meadows and wildflowers during certain parts of the year, to grand vistas in all directions near the top.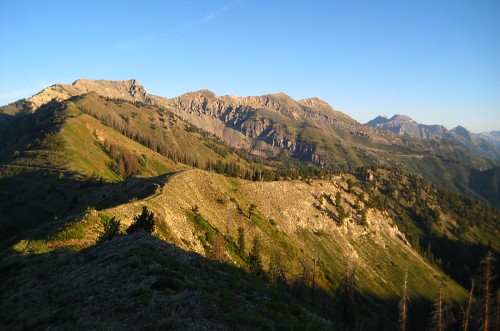 Cascade Mountain
I was feeling remarkably well at this point, and I called my wife to let her know of my progress. Tired, yes; beat up, not yet. After taking a few pictures, I dropped down and made my descent to aid station #4 at Big Springs. The first mile or so is tough going because you have to deal with a steep trail full of loose dirt and rocks, and as a result, I tripped and stumbled at least three times along the way. Bang . . . run, run . . . bang, bang.
As I proceeded downhill, thoughts of stopping in past years at Big Springs for different reasons crept into my mind. Going into the race, making it that far was a key mental milestone. If I could make it that far in one piece and feeling good, I knew that could propel me to the next climb to Windy Pass.
I finally made it to Big Springs at around 8:00 a.m. In no wise a blazing record speed, but I was there feeling pretty upbeat and ready for the next part of the course.
Taking more time to visit Big Springs on a different day is a worthwhile experience for the entire family. The spring feeds into the South Fork Creek, which later drains into the Provo River. The area has some excellent hikes, a great picnic area, and is just beautiful in the fall with the changing colors of the leaves.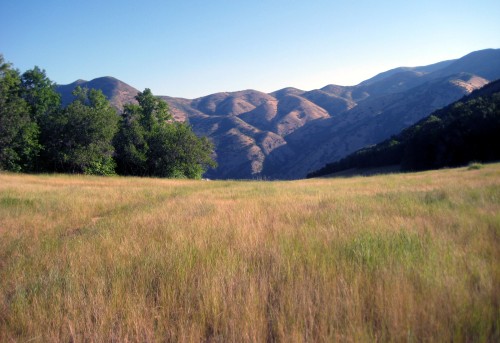 Meadow near Big Springs
Miles 23.5 - 29.5 (Big Springs to Windy Pass)
After fueling up with some food and drink, I left the aid station. Over the years, I have been fortunate to have never had stomach issues or sickness to plague me. Exhaustion, yes, but puking up lunch along the trail, no. I don't eat a lot of gels either (perhaps one or two per race). Instead, I seem to do better with fruit, nuts, an occasional sandwich, and chocolate milk that has been frozen beforehand. This isn't the fuel of champions, but it is what works for me.
The climb to Windy Pass follows the Great Western Trail for about 5 miles, gaining over 3000 feet. Once again, it was a slow grind with many of the early starters passing me; no problem. Part of the fun of running is seeing a variety of wildlife along the trail. Over the years, I've seen my share of moose, wild turkey, owl (specifically the Northern Pygmy Owl), deer, big horn sheep, mountain goats, and fresh mountain lion tracks in the snow. I tend hum or sing along the way as to not spook something big out of the brush.
Anyway, I just kept moving. My goal was to reach the top of Windy Pass by around 11:00, which I did. The weather was heating up, but part of the trail leaves you in the shade of pine and aspen trees, so the weather was bearable at that point.
Once again, the aid station workers were just great. I paused for a couple of minutes, but I knew I couldn't waste time daddling around. I found out that there were only seven (out of about 30) runners behind me, mostly early starters I presumed.
Aid Station at Windy Pass
Miles 29.5 - 38.5 (Windy Pass to Little Valley)
The route out of Windy pass climbs for about half a mile. There was a light breeze, so that helped a little. For those who have done Squaw Peak 50, you do NOT follow the same route down the monster hill to the east. Instead, you follow the official established trail to Little Valley.
I knew that the next nine miles could be somewhat runable at times, and I thought I had to reach the next aid station by 2:30 p.m. I ran for the next couple of miles, but I was simple becoming exhausted and I worried that I would get injured by pushing things too much. I hiked much of this section, and I only saw three other runners for the next three hours. Nothing really to report except some nice views.
So, what do you do for hours, and hours, and hours on end? And hours and hours? Well, one thing that I have discovered is that at times, you mind often goes blank as the miles go on. I sometimes focus on the next tree 100 feet down the trail or the next big rock, and then refocus on the next object beyond that. Or, I spend moments during these long intervals cursing the scrub oak branches that keep hitting me in the face.
Mountain Views
One of the more silent reasons for running this race was to remember and honor the life of my son who passed away earlier this year. Just like the ebbs and flow of life, running on a course such as this reminds you that while might be feeling great now, the trail will tame you shortly. At the same time, it teaches you more about yourself, that while hard times come our way, we can deal with the discomfort and pain, and in the end, you can find great satisfaction in completing the race of life. Indeed, hardache and pain can be transformed into joy.
Back to the race . . .
Within about a mile of Little Valley, you pass by a water trough and horse corral. The water in the trough was, well, nasty, but the water coming out of the pipe could be drinkable. I said "could" because although I didn't bare to try, others did. You continue down the ATV double track trail, through the aspen trees, down to the aid station, arriving around 2:15 p.m. Phew.
Miles 38.5-40
Relieved to be at the aid station before the 3:50 p.m., I refueled a little and then did the short, out-and-back. A slow clog. Back at the aid station, I was told that there were about five runners still behind me, but I knew that this could dwindle if they didn't make it to the aid station soon.
Miles 40-46 (Little Valley to Bath Tub)
I pulled out of the aid station at 2:55 p.m., and I knew the next 12 miles would follow a dirt road. I just had to focus on the next six to aid station 8. The next 3.5 miles or so were an uphill climb, but nothing like the previous ones for the first 30 miles. Unfortunately, when you are tired, any uphill climb can be exhausting. I kept looking behind me, but there wasn't any sign of other runners . . . until I turned around, and there was Otis (Troy Shultz) about 10 feet behind me.
I had met Otis and his wife before, so it was pleasant to see someone I knew, and we resolved to finish the race together. We pressed on, and then we came across another runner (Gary) who I first saw back around mile 17 on the second major climb of the race. We passed each other a couple of times for the first 40 miles, but he passed me right outside of Little Valley, I thought that would be the last time I would see him. Over time, I've learned that things can change quickly (the weather, the condition of runners, etc.), and about mile 44, Otis and I saw Gary sitting on the side of the road. As it turned out, he was dealing with some painful IT band issues, and he was going to call the race. We suggested we walk together for a while, which we did, and then Otis and I pressed on to leave word at the next aid station that he would work his way there.
We arrived at aid station 7 at around 5:30 (or so because I didn't have a watch), where we briefly rested and refueled. Another runner sitting there decided to call it a day because of painful blisters, and low and behold, a man riding an ATV pulled up with Gary on the back, saving him a painful walk in.
Mile 46 - 52.5 (Bath Tub to Dry Fork)
Otis and I rolled out of the aid station, and we followed the dirt road for about two miles on a gentle climb to about mile 50. Once at the top, we sat down and rested for a few minutes. Shortly after we got going again, I realized I needed to attend to my feet. I could feel some soreness between my toes on my left foot, so I pulled off my shoe and sock and washed it down a bit with some water and removed some of the grit between my toes. From previous runs, I generally don't have any problems with blisters until beyond the 50-mile mark, and if you don't take care of problems earlier, they can make your feet very uncomfortable and even make running excruciating.
Along the road at about mile 50
One might wonder what two runners might talk about for 7 hours together on the trail. Well, we talked about family, running, a little about our backgrounds, and our periodic calculations on when the next aid station would appear on the horizon. At other times, we silently ran or walked in our own contemplative worlds, but having someone along can help pass the time and the feeling of loneliness. In fact, we were told that there might be two or three runners behind us, but that they were thinking about dropping. I occasionally looked behind to see if anyone was there, but the trail was empty.
We ran and walked the next two miles or so. It is a gentle downhill most of the way. From time to time, I had cell phone reception, so I was able to get ahold of my wife again to let her know we might be coming in somewhere around 10:00 p.m. I also asked her to pick up a couple of burgers; having real food and not having to wait completely to the end might help.
After a couple of small hills, we reached an overlook, some cows, and small water hole for the animals in the distance. We also spied the aid station in the distance behind some trees. As we approached, the sounded the cowbell to welcome our arrival. A very cheerful band of volunteers as I had experience all day. We quickly found at that we were the last runners on the course and that any others behind us had dropped out. In total, about a third of the runners didn't complete the race.
Once again, what was amazing was that even though we were dead last . . . keeping these aid station workers from going home early . . . we were very-well care for during our shot stop. Plenty of food and drink which is something you might worry about if you are at the tail end of a race. I had some grapes, watermelon, and some Sprite; Otis lay down for a minute or so, saying that he couldn't feel anything in one of his feet. I think having done a couple of races in the past two weeks can have an effect on anyone.
Mile 52.5 - 56.25 (Dry Fork - Corral)
It was about 8:30, so we still had plenty of time to get to the last aid station at 10:10 p.m., 3.7 miles away. I grabbed my headlamp out of my drop bag, and we were off down Dry Creek Canyon. For some reason, I thought we could get down this stretch before the sun went down, but the night enveloped us along the way, and that slowed things down. Otis had arranged for a pacer to come up to help him for the last part of the race, and she met us part of the way up.
Now, I often wonder how landmarks and geographic locations are named, but this Dry Creek Canyon wasn't so dry in that we had to cross a creek several times. We eventually made it to the last aid station at about 9:30 p.m., with helpful aid station volunteers
Mile 56.25 - 62 (Corral - Finish Line)
With all of the trail and hard work behind us, it would be nice to simply say that there were only six miles to go down the road, but six miles are still six miles. We mainly walked, and then about halfway down, my wife arrived with small hamburgers and French fries. Not necessarily the food of champions, but it was nice to have something meaty in the belly. (It was also fantastic to have a nice giant burger, corn, other fixings, and a cold drink at the end. Thanks.)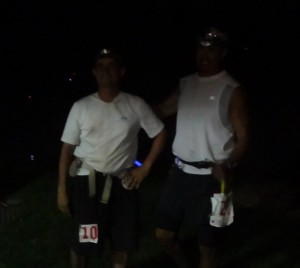 Otis, right, and I at the finish
We we got close to the finish line, we could hear the roar of those still waiting to see us to the end. Some volunteers, friends, and family. Our official time about 22 hours, 26 minutes. I don't think we achieved the distinction of being the slowest finishers in the 10 years of the running of the race, but we were close.
The winners had completed the course almost 10 hours before, and many others were certainly enjoying their evening at home or having a nice dinner far, far away from the finish line.
For me, the simple thought of knowing that I had made new friends and had completed the very challenging course after two other attempts brought its own satisfaction. Will I be back for another try? Uh, I will never say never, but I can say that I at least did it once. I always need some personal distance from the memory of the exhaustion and discomfort of a race to make a conclusive decision. I'll probably decide next year a month or so before, and perhaps in my delirium, I just might sign up again.
Recovery (The Days After)
By the time I reached the finish line, I knew that my feet might not look pretty because they certainly didn't feel very good. Not that they ached, because they didn't, but because I could feel some blisters reminding me of what I put my feet through for the past 22+ hours. When I removed my shoes at home, I first I realized that my poor choice of socks had contributed to the blisters I discovered on the outside of my heels on both feet. and now they had holes in them. I had a better pair of socks in one of my drop bags in the race, but I didn't realize how big the blisters were forming.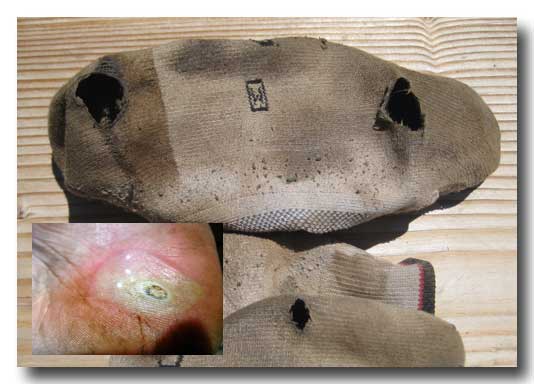 The wear and tear on socks and feet
Finally, I want to express my thanks to my wonderful wife who supports me on these crazy adventures. We have realized over time that although they can be physically and mentally taxing, they do provide opportunities to process and ponder the daily challengs of life.
And to Otis, thanks for running together during the final 20 miles of the course. People tend to develop comradery and friendship under such unique conditions, and it was a pleasure to do it together.
And finally, to John, the race organizer and the many volunteers who often see that coming in last can be just as meaningful as coming in first.
Lessons Learned from Race
Here are some general lessons that can be learned from participating in such an event:
Don't underestimate the impact that climbing significant miles will have on your stamina. Each 100K race is the same, basic distance, but elevation gain and terrain will vary your ending time and ability to complete the race.

Don't go into the race already dealing with some form of injury. The course is rough, and you could simply agravate a problem.

Have extra socks and other supplies to deal with blisters before and when they appear.