Location and Map | Distance and Difficulty
Running Time | Race Description | What to Bring
[ Photo Gallery of Bryce Canyon Half Marathon ]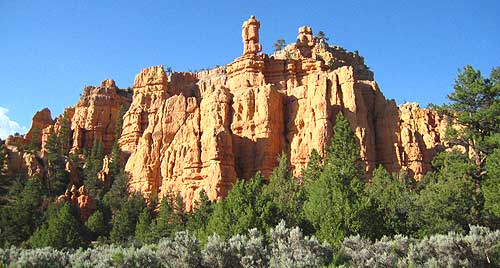 "What a view!" -- Beautiful sandstone formations in and around Bryce Canyon National Park
The start for the Bryce Canyon Half Marathon begins just north of the entrance to Bryce Canyon National Park near Ruby's Inn on Highway 63, heads north for about a mile, then turns east onto National Scenic Byway 12. From there, the route descends 1,730 feet through Bryce National Park, right through downtown Tropic, and ends on West Center Street in Cannonville.
If you were ever considering an easy and scenic running course rolled into one, this would be high on the list. Yes, you still have to run/walk/crawl 13.1 miles, but the course drops 1,730 feet over the length of the run, and the beautiful views really help you forget about the pain you feel in your legs. If you're just driving this stretch of highway, then sit back, relax, and enjoy the views.
Well, you can either blaze the roads or take a leisurely pace. The elite runners finished in about 1:07 minutes, but since we are very non-competitive types who like to take pictures along the way, we were satisfied with crossing the finish line before the 3:00 time limit. Take your pick. Your time just depends on your goals.
Date: July 18, 2009 and July 19, 2008
My wife and I entered this "race" in 2008 (for us, just a fun time to be together), and it was an unforgettable experience. This was her first half marathon, and our goal was to finish and enjoy each other's company along the way.
The race began promptly at 6:00 a.m. as people were still arriving and making a final dash for the porta-potties just before the starting line. As the race started, we quickly took our places at the back of the pack, and there we stayed to enjoy the amazing scenery the entire race. I think there were more than a thousand people who registered for the race, but in the end, I think there were only 600-700 who ran (and or completed the course), and at our position in the pack, the runners were sparce as you can see in the pictures.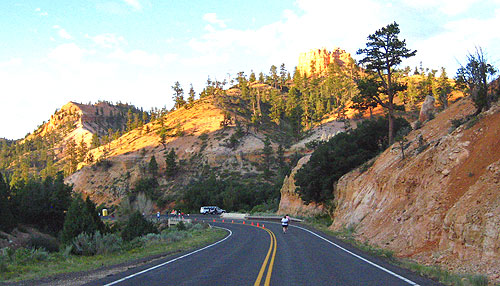 "Peace and quiet!" -- Running Through Bryce Canyon during the first few miles of the race.
The course starts at an elevation of about 7,630 and gains about 50 feet over the first 1.5 miles as it turns onto Scenic Highway 12 heading southeast. Then, the road drops sharply for about two miles, and the road descends more gently until about mile 8. That is were you encounter the only "climb" (well, really a very minor blip or hill gaining 50 feet over a short distance). Well before this point, you pass a famous site called Mossy Cave along the way. (No time to stop on this trip, but I've been there before, and it's well worth the visit.)
The road then descends into Tropic, where we encountered the cheers of motorists and well-wishers. Actually, most of the course is so quiet you can hear yourself thinking, but I really enjoy this type of course because your brain is not competing with large crowds and bands playing every mile or so as you might find on a popular city course. Furthermore, one lane of traffic was closed, so you didn't have to worry about traffic . . . what little there was on this morning. Once you leave Tropic, it is another 4 miles to the finish line in Cannonville.
There were eight aid stations along the way with porta-potties, and we were pleasantly relieved to see they still had plenty of water and Gatorade for back-of-the-pack runners like ourselves.
In 2009, my wife, son, and I participated in the different racing events. It was a wonderful experience for all of us, and we spent the afternoon in Bryce National Park.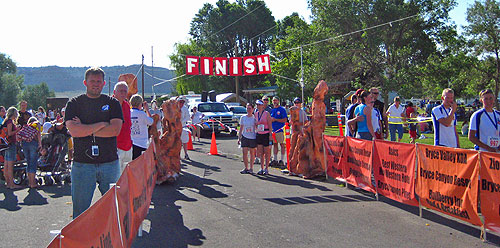 "Yahoo!" -- Coming in at the finish line.
Summary: So, you might say that you're not interested in the half marathon. Completely understandable. You can always do the 5K held on the same morning, and driving or even hiking this section of Utah in and around Bryce National Park might be a highlight of your own visit to this part of the country.


There are no public services (food and/or water) or restrooms between the entrance to Bryce and Tropic, so pack your own.