> Home
> About This Site
Summary | Area Map | Distance and Difficulty
Cut-Off Times | Race Description

[ Photo Gallery ]

This trail race takes runners on one loop around Antelope Island on the Great Salt Lake with incredible vistas and plenty of opportunities to see abundant wildlife. You can see my earlier race report of the 100K from 2010 on a slightly different route HERE.

The official Web site for the race (Antelope Island 50K Trail Race) describes the event in detail and directions on how to get to the area. (The starting point is shown below.)

This single-loop course of approximately 30 miles makes it a very reasonable race to complete in the 10-hour time limit. The first half of the race has some moderate climbs throughout, and the rest of the race is relatively flat. Some years, the race follows along the west side of the island along the beach, which brings the race closer to a true 50K.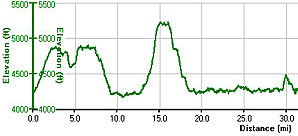 A total 10 hours to the end.
Antelope Island, located just north of Salt Lake City, is the largest of seven major island on the Great Salt Lake, itself the largest lake west of the Mississippi. The island if well known for its geographic features, abundance of wildlife including bison and antelope, and fun hiking and biking trails across the island. One of the things I have enjoyed over the years is taking a dip . . . and floating like you have never experience before . . . in the lake. It's really a unique feeling.
Over the last part of this year (2014), my wife and I have developed a strategy in entering events: Don't train for any particular event, keep a steady training schedule if possible, and don't stress out or feel disappointed about not being able to do a race that you had planned on for an entire year. Instead, what works now is choosing a race a week (or even a few days) before the event, and we sign up. It's like, "Oh, by the way, there's a marathon this Saturday. Uh . . . so . . . do you want to give it a try?" Now certainly, this approach wouldn't work for those who are seeking a PR in a race, but because we want to ENJOY the experience, it seems to work for us when entry deadlines go right up to the days before the event. We usually have to pay more, but taking the stress is worth a few dollars.
In terms of the Antelope 50K, we had also been discussing the possibility of doing this race with our 16-year-old son, Michael, for some time, seeing that he is on a cross country team. I could tell the event intrigued him, but such a race could be a little daunting because the longest distance he had done in an actual race up to that point was a half marathon. Multiple that by two plus five more miles, and you experience something completely different. I think Michael was also interested in seeing how he would fair against his old man. In short races of 5K, 10K, and a half marathon, I always lagged a few minutes behind him, but this animal of a race would certainly test his physical and mental reserves. Most important, it would give us the opportunity to run together as a family.
As it turned out, we officially signed up one week before, and we decided to stay in a nearby hotel the night before. My son admitted that he had the pre-race jitters and that running such a long way was making him somewhat nervous. Understandable. As for my wife, Shirley was pretty calm, having done a number of marathons before. Our strategy was for all three of us to strick together, take it slow, and just seek to cross the finish line in one piece.
One of the things I enjoy about participating in such events is that running and walking can be part of the experience. You don't have to pound yourself into the ground every mile, and that simply falling forward one step at a time brings emotional and mental fulfillment. I was looking forward to doing this as a family.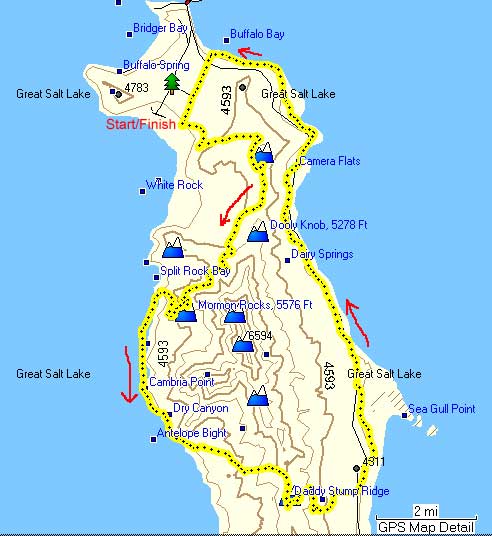 Course Map for the Original Antelope Island 50K/100K
We arrived at the starting line about 7:15 a.m. on a cool and overcast morning. After arranging our gear and taking a bathroom break, Michael and Shirley took their position near the back of the pack at the starting line while I took pictures and a video of the start. Once the race began, we took our place near the back of the 80+ runners, just where we wanted to be. The first couple of miles make a slow climb before heading downhill for a few more. There is a steep climb before the first aid station at 5.5 miles. Michael commented he was feeling good, and he and I paused for a few moments at the aid station while my wife was in and out and long ahead of us. The aid station volunteers told us that the next aid station would just be a few miles beyond the switchbacks at the top or so (the information was somewhat vague), and based on what was listed on the Web site, I believed that there would be one between this and the North Sentry Aid Station at about mile 15. Michael caught up with Shirley after about a mile, and I lagged a little behind until we were back together at about mile 7.5. At that point, from my calculations, there were about five or so runners behind us, but it is often difficult to tell who is still in the race.
We enjoyed light conversation over the next few miles as we ran on the west side of the island. The sun was out, and the weather was warming up a little. However, at each hill or bend in the trail, I was wondering where the next aid station was going to be. We kept pressing on; still, no aid station. Finally, once we approached the final hills to the North Sentry Aid Station at about mile 14.5, I knew that this was turning out to be the second aid station instead. We were all almost out of water, so a refill would be refreshing. However, to our dismay, the aid station said they were down to just about 2 cups of water for the remaining runners. (They did have Gatorade and soda, which could be fine for some runners, but not others who don't or can't drink that.) The race organizers had underestimated the need, and the aid station volunteers also seemed unsure on whether or not there should have been another aid station between the first and theirs. Approximately 9 miles is long stretch without much water.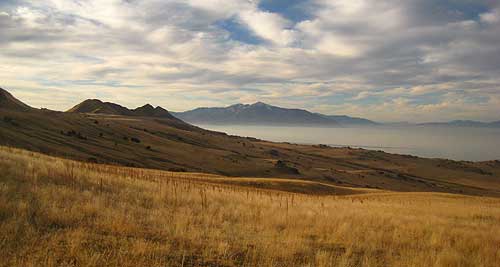 A scenic view from the west side of the island looking southwest
That said, participating in races and expecting the unexpected should be expected. The organizers try to do the best they can, and in this case, they apologized for the mistakes. The volunteers were supportive . . In spite of all this, we were still in good spirits.
After we left the aid station, we ran together for about a half mile, and then Shirley pulled head not realizing that my son and I were taking a slightly slower pace because Michael was feeling some slight pain in his knee from an IT band issue. We eventually caught her at the Garr Ranch. Without much water, we simply filled our bottles in the bathrooms.
Michael was starting to feel the mental grind of the miles, and he felt we might not be able to catch up to my wife who had left the ranch a couple of minutes before us. On her end, Shirley simply felt that we would be able to catch up with her. She was feeling good, so why slow down? For the first mile or so beyond the Ranch, Michael began to question whether he would have the grit to make it to the end. When you are already tired, and you have about 11 miles go to, your mind can tell you otherwise. I reminded him that in such a race . . . . just like in life . . . there are often a lot of lows and dark valleys. Doubts tend to occupy your mind, and they are very efficient at trying to push out hope. You sometimes can't see that things can turn around and look brighter around the corner. Fortunately, you often feel better as your spirits bounce back. This seemed to motivate him a little, and we eventually caught up Shirley and ran into the the next aid station at mile 20 where we had a drop bag. Some cold chocolate milk, a chair, and some snacks and fruit were all a welcome respite from the last few miles.
At that point, we still had no idea how many runners were behind us, but a few came in right afterwards. After a short sit and some light conversation, we were back on the trail. We could see a big herd of bison off in the distance to the west, which is better than having them standing on the trail 50 feet in front of you as we had experienced on a visit to the island earlier this year. Michael kept us on a good pace as we walked and ran until the next aid station at mile 24, with our son leading the way. Once again, we refilled on fruit and water.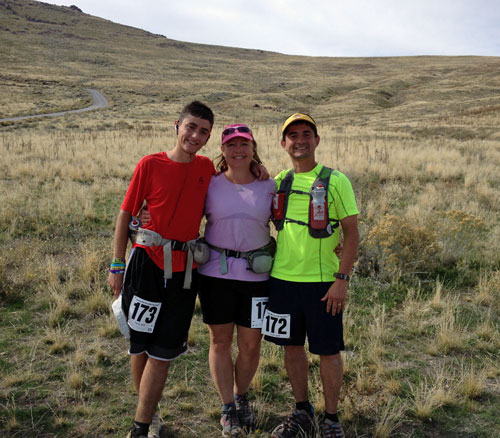 Enjoying a moment at the last aid station about mile 24
When Michael emerged from the bathroom, you could tell the miles were wearing on him, and after a short distance out of the aid station, he questioned whether he wanted to continue, feeling some physical and mental wear from the miles, but after a few minutes, the desire to complete what he started kicked in as we walked and ran. (Also, when you have told all your friends you're embarking on such a race, you know you'll have to report on the results later.) As he listened to his iPod, he decided he would walk a song and run a song, which is as good as system as any when you are struggling. Shirley was feeling strong, and about the last mile or so, she served as our pacer a little ahead of us, and we tried to keep our sights on her towards the end. With the last mile, Michael kicked it up a notch and powered into the finish about a minute behind Shirley.
One of the things I enjoy about the races of Antelope Island is the delicious buffalo stew served at the end. Nothing like a good meal as you relish the accomplishment of the day with a hearty meal. We were all excited about the outcome of the day.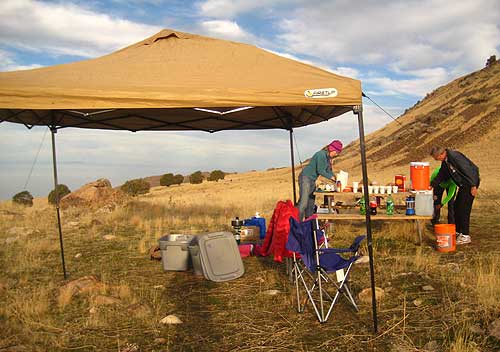 Sentry aid station (Picture from 2010)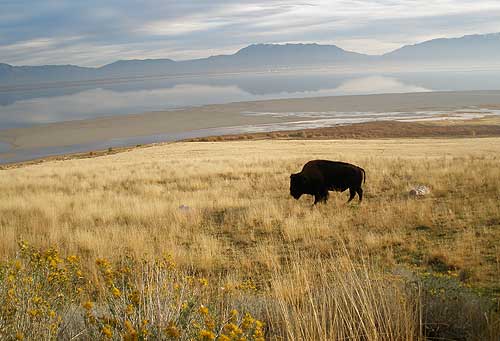 A picture of a bison taken by my wife during a previous visit to the island

To run and finish with my wife and son was one of those bucket-list types of experiences. From beginning to end, we encouraged each other, and had a blast (if you can call doing 30+ miles "fun"). The varying terrain, scenery, and wild life make this loop course well worth the effort.

[ Photo Gallery ]